Where does
KissAnime and chill

come from?

Kissanime and chill is a take on Netflix and chill, which appeared on Twitter in 2009 for relaxing while watching the streaming service Netflix. By 2014, Netflix and chill had become a clever suggestion for hooking up with a romantic interest. You know, you're watching a movie, it's dark, you're sharing a blanket, and then one things leads to another ...

KissAnime and chill appeared on Twitter in 2015, with KissAnime referring to the anime streaming website, www.kissanime.ac. Launched in 2012, KissAnime is a massively popular source of free—though legally questionable—high-quality, Japanese anime videos dubbed in English. 

One of the earliest Twitter examples knowingly plays off Netflix and chill:
kissanime and chill totally beats Netflix and chill

— Michael (@Woomynator) July 16, 2015
The expression was also a vehicle for witty observations:
you can't kissanime and chill bc that doesn't work you can't read the subtitles when you're doing that

— alexander (@REALFRNDS) July 21, 2015
Kissanime and chill also prompted its own spinoff, "Crunchyroll and chill," with Crunchyroll referring to rival anime-streaming site, www.crunchyroll.com.
Who uses
KissAnime and chill

?

On Twitter, KissAnime and chill reached its prime in 2015–16 and was most widespread on Twitter. It can be used as a noun for the activity (e.g., It's a good night for a KissAnime and Chill) or a verb (e.g., Let's KissAnime and chill).

Many uses simply explain KissAnime as a riff on Netflix and chill.

Others, given how quickly memes can rise and fall online, expressed their annoyance with the expression ...
Cut That Kissanime And Chill It's 🚮

— trunks (@ky2ty) July 25, 2015
Some instances of KissAnime and chill involve a meme of an anime character's face used as a reaction because memes.
When bae says its just kissanime and chill then after 5 minutes he gives you this look pic.twitter.com/KAVEIaXpbB

— Gintama confessions (@confessgintama) October 11, 2015
Another version plays off Pregnancy Announcement, a popular Japanese meme of an anime character holding a pregnancy stick with a positive result, implying someone's KissAnime and chill was very, er, fruitful.
On the social-media site Amino App in 2017, for instance, one user captioned the meme image "When I Kissanime and chill":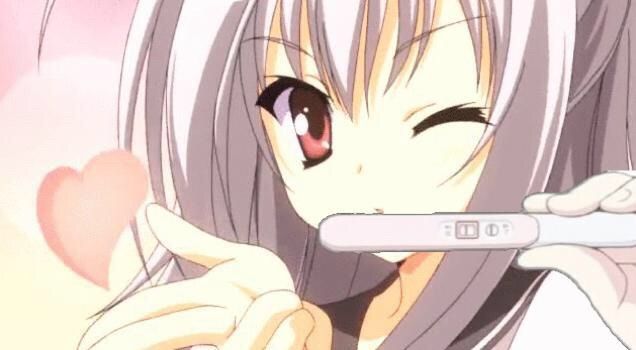 For example
it's Sunday who trynna KissAnime and chill?
@Dirty_Sav, February, 2018
listen bud, I'm not having some weird KissAnime and chill 3some with you and Ashley you're getting too kinky
@DarthDanaa, September, 2015
For the cheapskates likes me who don't have premium crunchyroll it's kissanime and chill😂
@samsora, August, 2017