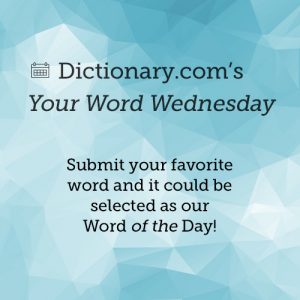 It's now your chance to help select the Dictionary.com Word of the Day, seen by over 15 million people every day. Submit your favorite word and tell us why you feel it should be selected and you may see it featured as part of Dictionary.com's Your Word Wednesday.
What makes a great word? Maybe it rolls off the tongue, or it has an unusual definition. Maybe it catches the eye with a strange spelling. Perhaps it has a wild history.
We want to know what you think makes your word great. Follow this link to submit your word, and be sure to check the Word of the Day every Wednesday!
Need inspiration? Browse the Word of the Day history!