fetch
that's so fetch
[fech]
Examples of fetch
Advertisement
Examples of fetch
In "Mean Girls," Gretchen Wieners didn't make "fetch" (for the non-Plastics among you: fetch roughly equates to cool/awesome) happen, much to the satisfaction of queen bee Regina George. But a decade later, the social media age has.
fivethirtyeight
Imgur
"I want to apologize to the world for fetch," she said. "I didn't mean for it to happen."
Tina Fey, quoted by Time
Where does fetch come from?
Fetch dates back to before the year 1,000, when it showed up in Old English as fecc(e)an. It's related to the German "fassen" which means to grasp. Back then (and now, if you're going with the typical definition), fetch typically meant to get or return with an object.
It wasn't until April 2004, when the movie Mean Girls was released in theaters, that fetch the slang word totally happened. 
The movie about a group of high school girls launched the phrase "so fetch" into the lexicon, thanks to character Gretchen Weiners (played by Lacey Chabert) who spent much of the flick declaring things she liked were "so fetch." In a now iconic scene, head mean girl Regina George (played by Rachel McAdams) snaps at Gretchen, telling her to "stop trying to make fetch happen."
Mean Girls creator Tina Fey has said she's sorry for adding the word to the movie, telling the Today Show, "I want to apologize to the world for fetch. I didn't mean for it to happen."
But it looks like Gretchen got the last laugh.
"So fetch" has caught on, especially among fans of the cult classic. Mean Girls has since been turned into a Broadway show where "so fetch" is said multiple times per showing. And hey, we put it right here. 
That's pretty fetch, don't you think?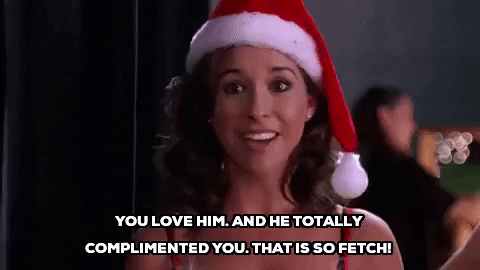 Who uses fetch?
The internet loves to call its favorite things "so fetch." This goes double for anything that's pink on a Wednesday—a nod to another famous Mean Girls quote.
I'm so proud of Harry for wearing pink on a wednesday he's a true Mean Girls stan. That suit of his is so ~fetch~ pic.twitter.com/5JkkpOh7zp

— ashlee (@ashleedaniellee) April 5, 2018
When things aren't so fetch, fans are using the hashtag #MakeFetchHappen
The best towel hooks ever. #MakeFetchHappen pic.twitter.com/8ARxQ7fTYM

— Henry Baker (@henraldo) September 27, 2018
And, of course, Gretchen Weiners gifs are always call for a fetch mention.