🎃 Jack-O'-Lantern emoji
Pumpkin emoji [ jak-uh-lan-tern ih-moh-jee ]
What does 🎃 Jack-O'-Lantern emoji mean?
Falling leaves, pumpkin spice lattes, decorative gourds, king-sized candy bars, scary movies—the Jack-O'-Lantern emoji 🎃 represents all things autumn and Halloween.
The Jack-O'-Lantern emoji 🎃 depicts a carved pumpkin with the green stem and classic jagged smile.
Sometimes the emoji is used with spooky things in general, regardless of the time of year, and can stand in for pumpkin as food or a term of endearment.
Where does 🎃 Jack-O'-Lantern emoji come from?
The Jack-O'-Lantern emoji 🎃—also known as the Pumpkin emoji—first carved its way onto keyboards under Unicode 6.0 in 2010 and quickly became a staple of Halloween and autumn emoji-dom.
Some versions of the emoji feature a black face, as if unlit, but platforms such as Apple or WhatsApp use a jack-o'-lantern that appears to be illuminated from the inside with a yellow glow. All feature a classic, jagged-mouth smile, hinting at a mischievous but merry night to come.
As with Christmas songs at stores, the Jack-O'-Lantern emoji 🎃 has been the subject of "holiday creep," popping up on Twitter feeds earlier and earlier each year. One curmudgeon who complained September was too soon for the Jack-O'-Lantern emoji 🎃 was hilariously spammed with the emoji.
Like many of its emoji brethren, Jack-O'-Lantern emoji 🎃 has been put to creative use. Artist Zoe Mendelson rendered the 1966 children's classic It's the Great Pumpkin, Charlie Brown! into emoji, starring the Jack-O'-Lantern emoji 🎃, in 2013. Music artist E.M.M.A even paid tribute to the Jack-O'-Lantern emoji 🎃 by calling a track on her 2017 12-inch single "Pumpkin Emoji," as the emoji is commonly called.
Examples of 🎃 Jack-O'-Lantern emoji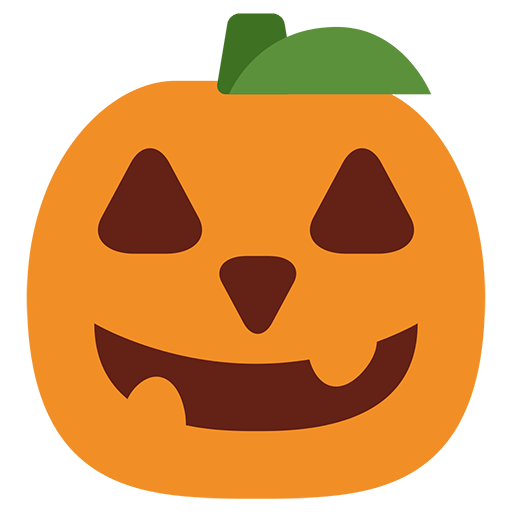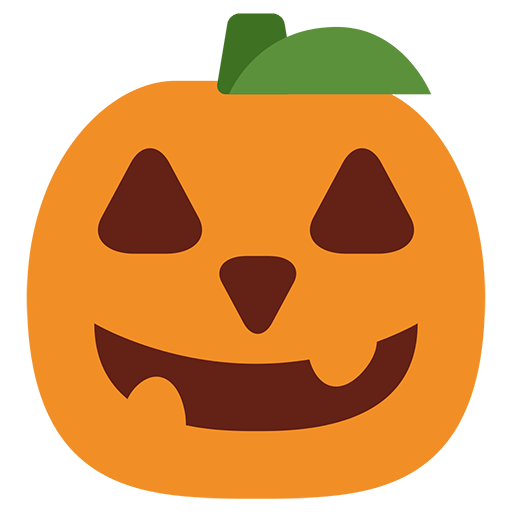 HappyHalloween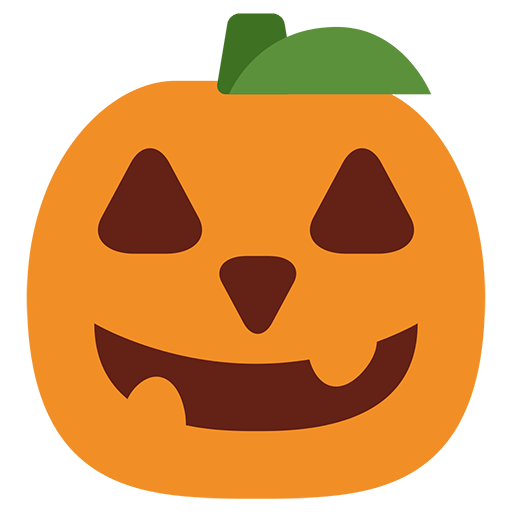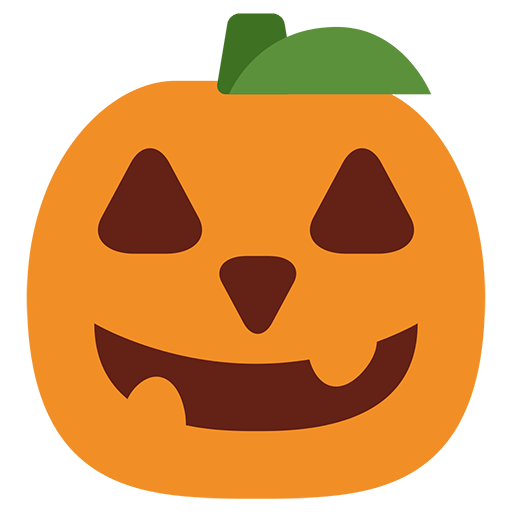 #HALLOWEEN
@SatokoMiyakawa, October 30, 2017
Wake up & smell the pumpkins! 🎃 Fall Fest is from 10 a.m. to 3 p.m. w/ music, a pumpkin patch, food, games, a petting zoo & more! #TAMUSA
@TAMUSanAntonio, October 21, 2017
The thing is, the pumpkin is by far the largest defining icon of fall. Only problem? We don't have a regular pumpkin emoji. We just have the one Jack-O-Lantern emoji, which conveys a much spookier, aggressive version of fall than those of us early tastemakers are probably trying to convey.
Emma Lora, Bustle, September 7, 2017
Who uses 🎃 Jack-O'-Lantern emoji?
Jack-O'-Lantern emoji 🎃 is most popular around Halloween, used to adorn conversations about trick-or-treating, costume parties, festive decorations, and the holiday's many movies:
Feeling like I already need to think about my Halloween costume 🧛🏻‍♀️🎃

— Adelade Spulgis (@adeladespulgis1) July 9, 2018
Our fall decorations are up for Pumpkin Beer Fest 🎃 We're hyped for the weekend 🎉 pic.twitter.com/KWObXNUpVc

— The Coug (@TheCoug_) October 27, 2017
Can't wait for October. Cool weather and leaves changing. Disney playing Halloweentown, Hocus Pocus, Twitches, and all the other great movies we grew up with. Best month of the year🍂🕸🎃

— Dawson Robicheaux (@Dawsonkale1102) July 3, 2018
The emoji also embraces the entire season of autumn, from its football games to the annual return of knee-high boots.
Why am I so ready for it to be fall and wear fall makeup , fall outfits, and have pumpkin spice latte everyday ??! 🎃☕️🧡🍃🍁

— Vane$sa 👽 (@litness_) July 5, 2018
Thanks to its Halloween association, the Jack-O'-Lantern emoji 🎃 sometimes stands in for spooky-scary things more generally. But, the jack-o'-lantern's face is friendlier than it is frightful, so sometimes the emoji doubles for the term of endearment "pumpkin" …
squish squish pumpkin! 🎃💖#8thday pic.twitter.com/wb4H2WIulS

— Gem💎 (@myypreciouss) June 27, 2018
… and literal pumpkins, too, as farmers and cooks don't have gourds and squashes on their keyboards.
Nightly 🎃 inspection yields 5 pumpkins. pic.twitter.com/eWlB3eLPrH

— Mark's Pumpkins (@MarksPumpkins) June 27, 2018
Note
This is not meant to be a formal definition of 🎃 Jack-O'-Lantern emoji like most terms we define on Dictionary.com, but is rather an informal word summary that hopefully touches upon the key aspects of the meaning and usage of 🎃 Jack-O'-Lantern emoji that will help our users expand their word mastery.