It didn't take very long for the Netflix reboot of Queer Eye to sneak into America's chests and start tugging those heartstrings. Now, with Season 4 out on July 19, 2019, we wanted to shine the spotlight on some of the lexical magic of the Fab Five.Spoiler alert … some Queer Eye plot points may be revealed. Grab your tissues and prepare for the ride.For example, in an episode "A Decent Proposal," the team (Jonathan Van Ness, Bobby Berk, Antoni Porowski, Tan France, and Karamo Brown) not only makeover a rather unkempt movie buff named William Mahnken, but they help him pop the question to girlfriend Shannan by coming up with a word to describe his love for her.
It turns out he Shannans her, and while the rest of you were swooning, we were diving deeper into the words that Queer Eye has brought bubbling to the surface.
Are you ready to learn to speak some more Fab Five?
Lewk
Between Jonathan teaching folks how to complement their gorgeous faces with skin- and hair-friendly grooming and Tan's no holds barred attack on their closets, the goal of every Fab 5 episode is for participants to come out with what the guys call a lewk. No, it's not just a look. It's what happens when your look gets upgraded to fierce, fabulous, and fearless.
Gorg
When you hear Jonathan tell someone they're gorg, it may sound like he's accusing them of eating greedily, but food is Antoni's part of the equation. What he really means is that you are gorgeous, inside and out.
TheThings.com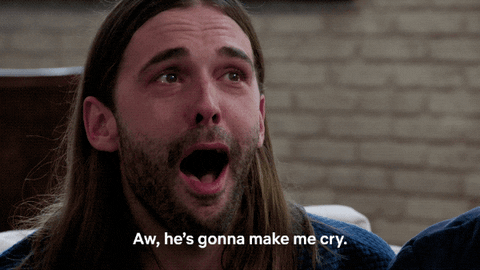 Zaddy
This term started popping up in 2016 thanks to a Ty Dolla $ign song of the same name. According to Karamo, a zaddy is a sexy guy who walks through life "very, very, very confident." Basically, he feels good about himself and it shows. See also: Queer Eye show participants after the Fab Five have worked their magic.
French tuck
Francophiles may or may not have heard of Tan France's favorite bit of sartorial advice before the show hit the air, but chances are this is now a part of your lewk. The French tuck is basically the mullet of tucking in your shirt. The front is slipped into your pants, while the back remains untucked and ready to party.
Henny
English-speaking folks have been calling people honey as a term of endearment since at least the 1350s, but it's 2019, so why stick with what we know? A henny is a honey by a slightly sweeter name.
Struggs to func
What happens after you stay up all night to binge watch Queer Eye? You may just find yourself struggling to function, or as the Fab Five would say, struggs to func.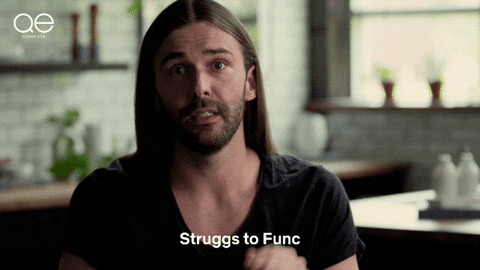 Serving you realness
Fans of RuPaul's Drag Race already know that serving up realness is all about showing off your truth and authenticity. It's part of what Karamo preaches as the Fab Five culture expert, and something Jonathan is sure to mention when the newly made-over guest shows off their new lewk.
Zhuzh
Whether you're adding a little product to your hair to take it from frizz to fabulous or taking a page out of Bobby's book and throwing some temporary wallpaper on the walls of your rental to brighten up the place, when you zhuzh things, you're giving them a little bit of extra pizzaz.
Our current Fab Five guys borrowed this one from the original Queer Eye crew. Something this good is guaranteed a return to the spotlight.
Shamazing
How do you feel after watching the Fab Five take someone from strugg to func to a total zaddy? Shamazing, of course! This is what happens when you zhuzh the word amazing.
Note: The Fab 5 may have more Americans using many of these words, but they did not invent most of them. In fact, many of the words used on the show have roots in African American Vernacular English (AAVE, also called Black English) or Black and Latinx drag culture, which have enriched modern English with countless terms we use every day. Find out more about the rich history of AAVE here and discover more terms originating in drag (and ball) culture here.