Hokie
or hokie or Hokie Bird or Hokie Nation [hoh-kee]
What does Hokie mean?
No, a Hokie is not a dance you learned back in elementary school involving sticking bits of your body "in and out" (that's the hokey-pokey). Spelled with an "ie" at the end, a Hokie is the mascot of Virginia Tech, short for Virginia Agricultural and Mechanical College and Polytechnic Institute.
The Hokie Bird is a larger-than-life turkey often seen wandering the college campus in Blacksburg, Virginia.
Where does Hokie come from?
Campus Emporium
The Hokie was born some time in the 1890s when a student named O.M. Stull drafted a new fight song for the Virginia Tech athletic teams. The original song went like this:
Hoki, Hoki, Hoki, Hy.
Techs, Techs, V.P.I.
Sola-Rex, Sola-Rah.
Polytechs – Vir-gin-ia.
Rae, Ri, V.P.I.
Eventually Hoki was respelled as Hokie. That explains the word itself, but WTF would a bunch of athletes look up to a giant … turkey?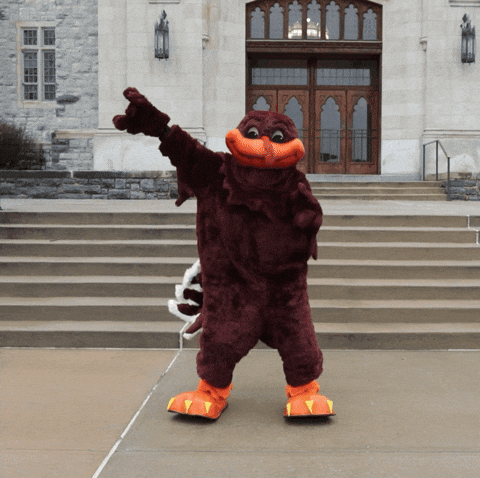 The origins of the Hokie Bird are a bit more nebulous. At one point Virginia Tech students were referred to as "Gobblers," which, of course, is the noise associated with the favored meal of Thanksgiving. Their athletic mascot was—surprise, surprise—a giant turkey. First known as the Fighting Gobbler, the big bird was re-christened as the Hokie Bird some time in the 1980s, and he's been around ever since.
Members of the fevered Virginia Tech fandom now refer to themselves as Hokies and members of the Hokie Nation.
Who uses Hokie?
A football game at Lane Stadium is sure to bring out the Hokie Nation on social media.
What. A. Scene. Hokie nation goes wild in Chapel Hill after Virginia Tech's 22-19 comeback win over North Carolina. pic.twitter.com/HuZOwrBYrk

— Anthony Romano (@ARomanoWDBJ) October 14, 2018
And, fall time is Hokie time across the nation as leaves turn orange and maroon.
We are #Hokies. 🦃 We know what that means, but does the rest of the world? They will now. 🌍

We've blanketed one of the nation's busiest corridors in maroon and orange to tell our story. This is #VTinDC. 🙌 pic.twitter.com/V2R0cTofj2

— Virginia Tech (@virginia_tech) October 10, 2018
Note
This is not meant to be a formal definition of Hokie like most terms we define on Dictionary.com, but is rather an informal word summary that hopefully touches upon the key aspects of the meaning and usage of Hokie that will help our users expand their word mastery.