Grumpy Cat
[gruhm-pee kat]
Examples of Grumpy Cat
Advertisement
Examples of Grumpy Cat
I met Grumpy Cat once, it was awful. (Just kidding it was the greatest thing ever)
@angjanu, March 2017
He managed to snag a photo with Grumpy Cat and it was posted to Facebook by the time the cat left the building.
Jennifer Brooks, "Glamorous. Glowering. Grumpy Cat visits the fair," Star Tribune, August 29, 2013
Where does Grumpy Cat come from?
See Next Word
PetaPixel
Grumpy Cat is the nickname given to the late Tardar Sauce, a cat belonging to former waitress Tabatha Bundesen. Bundesen's brother posted a photo of Tardar Sauce on Reddit on September 23, 2012. Users were so taken by the cat's unusual appearance (the cat suffers from a form of dwarfism and had an underbite) some suggested the photos had been edited to create her grumpy expression.
When videos of Tardar Sauce were posted to prove the authenticity of her appearance, the cat became an instant sensation and the photos and videos went viral, with admirers dubbing her Grumpy Cat, which was the name that appeared in the original Reddit post.
Immediately following the spread of her photos and videos, Grumpy Cat memes appeared in abundance on every social media platform. The majority of Grumpy Cat references use photos of Tardar Sauce with comments about something negative, in a broad sense.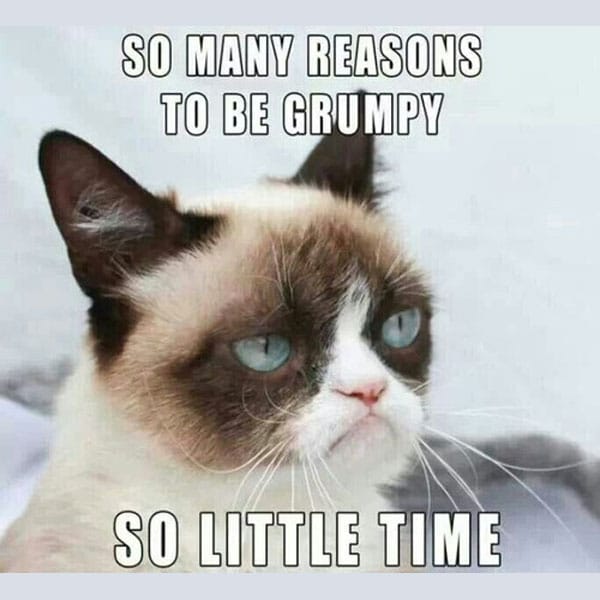 While she has brought us so many smiles, Grumpy Cat sadly passed on May 14, 2019 at the age of seven after complications from a urinary tract infection.
Who uses Grumpy Cat?
Grumpy Cat has been a part of the cultural zeitgeist since 2012 and continues to make public appearances from time to time. Tardar Sauce has appeared on major news outlets like ABC, NBC, CBS, VH1 and FOX, along with popular reality TV shows like American Idol and The Bachelorette. She has been the audience favorite at events like the 2013 South by Southwest festival, and had a myriad of merchandise made in the Grumpy Cat name.
Someday My prince Will Come「No!!」 pic.twitter.com/g8re4gsZoT #grumpycat #グランピーキャット

— 不機嫌すぎる猫 (@grumpy__cats) December 11, 2018
Owner Tabatha Bundesen has done well from the merchandise, which include t-shirts, mugs, stuffed toys, an official book, among many others. Grumpy Cat appeared in a 2014 documentary about internet cats, and even got her own Lifetime movie called Grumpy Cat's Worst Christmas Ever, with actress Aubrey Plaza providing voice work for the character.
Tons of Grumpy Cat Christmas Apparel for all of your Terrible Holiday Parties –
Available at @5sun :https://t.co/3JIzmN6Y9v pic.twitter.com/h9tnaQpwrJ

— Grumpy Cat (@RealGrumpyCat) December 3, 2018
Years after Grumpy Cat's viral debut, the internet continues to be delighted by this cute little grump.
My Christmas season will not feel right until I watch @RealGrumpyCat "Grumpy Cat's Worst Christmas Ever" special. It has become my new favorite tradition. I wish they would make another one, hint… hint.. @LifetimeMovies @lifetimetv pic.twitter.com/sLQ0PeCsRx

— Tarrin P. Lupo, D.C. (@TarrinLupo) December 5, 2018
Aubrey Plaza holding Grumpy Cat pic.twitter.com/Fy90ocMz6Y

— A happier day (@AHappierDay) November 24, 2018
I don't care who you are, you need this picture in your life right now.

Stan Lee with grumpy cat. You're welcome. pic.twitter.com/Y5XqBrVlLT

— Ruth Waddell Art 🏴󠁧󠁢󠁳󠁣󠁴󠁿 (@ruthwaddellart) November 17, 2018
Grumpy Cat visits Mall of America https://t.co/01v2yI0Tk2 pic.twitter.com/hERJKvwRBg

— KARE 11 (@kare11) November 4, 2018